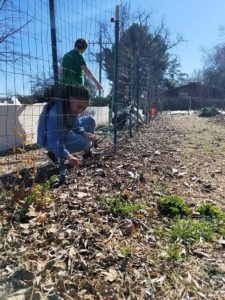 While it may be winter, even here in beautiful Arizona, students in Orme's gardening chore are still hard at work. Raised growing beds in our Burpee Garden are being protected from the cold, while tomato and other seedlings are being started, a crop of peas planted, and radishes and sweet potatoes harvested.
In addition to the school's Garden, students have been tending the fruit and nut trees in our Orchard. Most recently during chores, students spread new mulch around the base of those 200 trees to help them grow strong and healthy.
There is always plenty to be done in the Garden and Orchard no matter what time of year it is, and Orme students are doing a wonderful job taking care of both. It's hard work, but students and Farmer/Educator Jennie Wolfe (who oversees the Garden and Orchard) always manage to have some fun while getting their hands dirty. And, as a community, everyone on campus benefits from their efforts because what is grown in the Garden and Orchard eventually makes its way over to our school's dining hall for all students and faculty to enjoy.