Sustainability
Within the expansive ranch land that The Orme School is situated on, students are an important part of the ecosystem of native wildlife, unique weather systems, seasonal washes, and all four seasons. They can experience vivid sunsets, see the moon rise over the hills, and find the Pleiades or Orion constellations almost nightly. These everyday experiences reinforce our excellent Sustainability Program, and create an appreciation and understanding of the natural world Orme students will carry for the rest of their lives.
So how does Sustainability = Action at Orme??
With our rich ranching heritage, Orme's vast campus, ideal temperate climate, and ample natural water sources come together to form one of the most unique living classrooms in Arizona, if not the world. Orme's Burpee Garden and Burpee Orchard are examples of how Orme students are directly engaging in a different level of education that goes beyond books and classrooms, and immerses students in experiences tha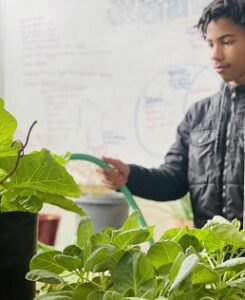 t force them to ask tough questions about the ongoing environmental crisis facing their generation. Through lessons in sustainable food cultivation, water conservation, and environmental science classes, they are getting their hands dirty while being encouraged to learn to take practical action to promote sustainability. In return, our students benefit from the many lessons that the garden teaches them, from improving their physical and mental wellbeing, to boosting their confidence and self-esteem as they learn the sense of accomplishment that comes with a healthy harvest.