Reunion Round Up 2023
June 2-4, 2023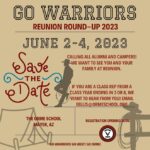 After an amazing and exceptionally well attended Reunion Round Up 2022, it is our goal to make Reunion 2023 even bigger and even better! If you have any ideas or suggestions, please contact Director of Alumni Engagement, Elizabeth Ellis.
Reunion Round Up 2023 Schedule
---
Welcome Orme Alumni
Excellence. Tradition. Character.
Whether you are a member of the Class of 2021, or one of our longtime friends who graduated decades ago, our Orme School motto is sure to elicit fond memories of your time here. You know from firsthand experience how Orme is a school like no other in the country. As an Orme Alumni you are part of our family forever. This website is designed for you to keep in touch with your former classmates, friends and Orme family, as well is a place for Orme to keep you up-to-date on news here at the school.
Orme Transcripts
If you are an Orme alum and need an official copy of your Transcript, please contact our Registrar. Be sure to include your name (maiden name if applicable) and years of attendance.
Folio: The Orme School Alumni Photo Archive
Take a trip through time and discover Orme again through Folio. Some photo archive years are better populated than others, but our gallery is always growing. If you have pictures from your years at Orme that you would like added to Folio, please e-mail them to us so we can add them to the collection.
Stay Connected!
Check out the Orme School calendar for upcoming Alumni and Class Reunion events. For up to the minute news and fun Throwback Thursday pictures stay connected—like us on Facebook, Instagram and LinkedIn. Each time you visit Orme, whether online or in-person, we welcome you home!
Reunion Round Up:  June 2-4, 2023
If you are not receiving our alumni e-mail and would like to be included or you would like to update your contact information, please complete the Alumni Contact Update Form. See you at Reunion in June!