Our annual Caravan program has been a long-standing Orme tradition since 1932.
Caravan is an unparalleled outdoor adventure and academic experience that gives students an intensive exposure to the magnificent landscapes, diverse cultures, and rich history of the Southwest. Class-sized trips led by faculty members camp out in National Parks or wilderness regions, develop outdoor skills, and learn the natural and human history of the region. Caravan earns academic credits required for graduation.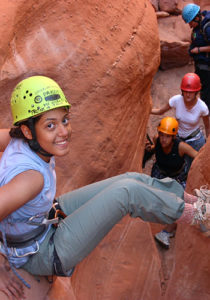 In the fall and the spring, Caravan hits the road with students, faculty and staff becoming explorers together in remote, magnificent places. Students learn self-reliance, cooperation, respect, and tolerance from personal discovery and direct experience. Options include canyoneering, backpacking, mountain biking, camping, horseback riding, rock climbing, and fly fishing.
Caravan visits include the Grand Canyon, Bryce Canyon, Canyonlands and Zion National Parks, among many other awe-inspiring destinations.
Colorado Plateau Region
Since The Orme School's inception in 1929, most of our longer excursions have explored the spectacular, world-famous Colorado Plateau, which rises to the north of campus. The Plateau is a vast, Germany-sized natural province that boasts the most spectacular canyon country and some of the most bizarre geological wonders in the world, as well as the greatest diversity of Native American cultures.