34th Annual Champagne & Sagebrush Ride – May 21-24, 2024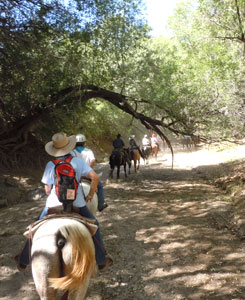 Since 1988, the Champagne & Sagebrush (C&S) ladies have been gathering at Orme to ride, relax and raise money for the Horsemanship Program. The industrious and infamous "Three Ann(e)s" of Orme Summer Camp (Anne Castle, Ann Mulchay and Ann Rathwell) came up with the idea to have a women's ride, similar to the men's Los Vaqueros ride.
For more than two decades Orme's annual Champagne & Sagebrush Ride has brought many of our Orme School and Camp alumni women together. Really, is there any better way to see the beautiful and expansive Orme School and Ranch than from the back of a horse?
Alumni ladies ride in late May or early June, after the students leave campus, preferring the comforts of Girls' Camp to roughing it out on the range. Champagne & Sagebrush participants make the most of our three nights and four days at Orme, trail riding one or two times each day, going on an occasional field trip, eating great food, swimming, playing bocce ball, and getting to know the first year riders (lovingly called "Weeds"). The "Sages" always look forward to an evening of fine entertainment at the annual Weed skit which follows our final dinner. This gathering has also been known to feature very successful auctions; with all funds supporting the legendary Orme Horsemanship Program. Hundreds of thousands of dollars have been raised by the C&S ladies.
For further information please contact Jessica Thomson or Kathy Kirchner.