Eating Well
Eating well at The Orme School is delicious evidence of our overall sustainability, health and wellness commitment. In 2014, the School launched our "Food-to-Founders" initiative so that our community's daily menu would be more significantly sourced from local farms and ranches, and from our own community organic garden. By engaging students in both gardening and ranching tasks, they learn firsthand what it takes to raise, grow and harvest food. In the spring of 2015, our Burpee Organic Orchard was planted with 200 fruit and nut trees, making our menus even more local and nutritious.
Founders Dining Hall, built in 1968-69, is a welcoming place that serves as a hub where our students, faculty and staff sit in groups of all sizes. At any given time you will meet boarding and day students, athletes and artists, freshmen and seniors—boys and girls from around the corner and around the world eating well, socializing and studying together.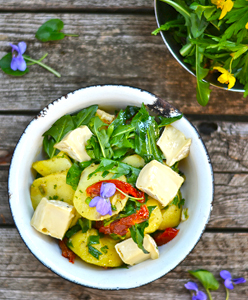 Our Founders Kitchen staff are professional and friendly, with a mission to serve flavorful, nutritious, quality food that also treads lightly on the environment. This means we procure 'uber' locally-sourced ingredients incorporating free-range, grass- and non-GMO-fed meats and eggs, vegetables and culinary herbs from the school's own organic garden into menus. We are an independent (not institutionalized) facility.
Daily menu options include:
A fresh fruit and yogurt bar
Our popular "make your own waffle" station
A full salad and sandwich bar
Fresh daily soups
A rice bar
We are versatile in our service, preparing all made-from-scratch hot meals three times a day, from cafeteria-style service, to sit down formal dinners, and super casual outdoor BBQs. Be sure to try our home baked breads, rolls, cookies and desserts. The Founders Hall staff prides itself in meeting special dietary needs and pays close attention to food allergies and sensitivities. We encourage our students to share their favorite food ideas and even their recipes with Founders.