Learning Resources
As a student you will not be alone in your academic journey. You will have many resources to help you learn and to grow as a scholar. They include:
Academic Advisors
Another unique Orme tradition is its approach to providing faculty advisors for each student. Your adviser will challenge you, support you, listen to you, and stick by your side throughout your years at Orme. These advisors will meet with you regularly during school and office hours, of course. And, in our friendly and accessible community, it is Orme tradition for advisors to have dinner with their students every other week, often times in their own residences for home-cooked meals and warm conversation. Your advisor will be magnetic—staying close and frequently available to support you on your journey, all the way through graduation.
Technology—Orme 3.0
Wireless meets the wilderness at Orme. Our entire 300-acre campus enjoys a wireless network so students can be connected, online, and engaged virtually, for multi-tasking both personally and academically. The wireless network that has been deployed is a blend of Aerohive access points and Ubiquiti point-to-point radios. The Ubiquiti radios are the magical radios that extend our network to the hard to reach places around campus and, in the future, will be our solution to extend the wireless network Up Top to our barns and arenas. The network not only provides dependable connections across the world but will influence daily operations across the campus.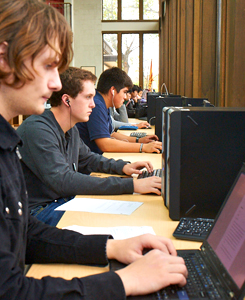 Our Wifi network offers many features including security measures, teaching tools, and numerous technical elements which make the devices more robust. The security measures available promise to keep those connected to the network away from material to which our young people should not be exposed. Teaching tools include Teacher View and Student View which influence the very methods our faculty uses to teach.
Orme has purchased a site license of Microsoft products which are available to all students and faculty for both PC and MAC computers. It also offers the ability to save all your documents in the cloud so they can be retrieved anywhere in the world from any device. Stay tuned engage by subscribing to one or all of our media outlets including Facebook, Instagram, and our YouTube channel.
Academic Resource Center
What is The Orme School Academic Resource Center?
The Orme School's Academic Resource Center focuses on achieving excellence in all areas of college preparatory education, in and out of the classroom. The Academic Resource Center maximizes academic opportunities for Orme students by establishing integrated curricula with a meaningful academic philosophy, fostering faculty development and mentorship, implementing customized academic assessment, seeking out and securing resources that continually improve teaching and learning on campus, and establishing strategic partnerships that broaden Orme's educational influence and deepen our academic yield—locally, statewide, and beyond.
The Academic Resource Center is primarily responsible for the academic advancement of The Orme School, providing strategic and systematic direction on three fronts:
Students: The Center identifies individual learning styles and promotes effective study habits, as well as centralizes academic communication between the school and parents.
Faculty: The Center provides professional development opportunities and resources that encourage best teaching practices in the classroom.
The Orme School: The Center directs institutional academic advancement by searching out and allying with other schools and educational institutions for mutually beneficial educational relationships.