(The Drugstore Cowboys)
A Short History of The Orme School's Annual Horseback Ride
In the late 1960s, a group of Orme Alumni began talking about how the dirt roads throughout America were disappearing. It was proposed that, before the roads were all paved, the group should make a trip from the West Coast to the East Coast, traveling only on dirt roads. Well, they soon realized that wouldn't work, so decided to take a horseback ride from The Orme School to Phoenix.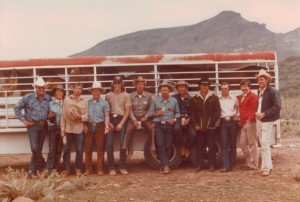 The first ride was in March of 1976 from the School to Cave Creek (some 75 miles) in three days. Eleven hardy and foolish young Vaqueros (plus one truck driver) made that original ride. They enjoyed the camaraderie, friendship and outdoors so much that they have continued the ride on a yearly basis (a couple have even participated in every ride). 
Other options to riding a horse are also offered such as riding in a van, hiking from campsite to campsite, or riding along with 'El Jefe Alberto' in the Number One supply truck. You are welcome to even just join us for the Saturday night festivities if you cannot get away for the full five days. The Vaqueros always ride out on a Wednesday during the School's Spring Break in mid-to-late March, and return the following Sunday morning.
Everyone is entitled to one phenomenally stupid idea.

William S. "Buck" Hart, Founder
Dates for the next ride, celebrating Vaqueros' 45th year, March 28 - April 2, 2023
Vaqueros featured on AAA Presents Highroads with Dan Davis.