College & Career Counseling
Our goal at Orme is to find not just a good or acceptable college. Orme's commitment is to find the optimum 'right fit' college for each student. College preparation is an on-going process at Orme, which begins at the onset of each student's time here. Students in all grades are encouraged to take challenging courses, work hard and to begin planning for their futures beyond high school. The Director of College & Career Counseling works individually with every junior and senior during all stages of this process to guide them through every step of the college application process.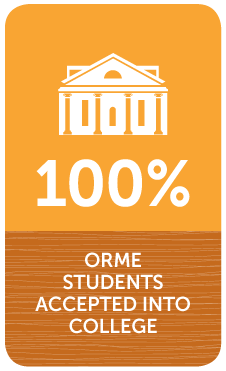 Formal college counseling begins in the spring semester of junior year. All juniors are scheduled into College Counseling once a week to openly dialogue about the college search and application process. Students are taught how to write an effective college application essay, to understand terms such as Early Decision and Early Action, and how to prepare for the SAT and ACT exams. All of this information and more is outlined in detail in the College Counseling Handbook. Ultimately, a foundation of knowledge and expertise is laid during the junior year, providing the framework for what will be accomplished during senior year.
In the fall, seniors meet weekly for College Counseling until all of their application materials have been submitted to the colleges of their choice. Seniors are also given the opportunity to take and re-take the SAT, ACT, TOEFL, and SAT Subject Tests at Orme in the fall. In October, all seniors attend the NACAC Greater Phoenix College Fair, where students have the opportunity to speak with more than 200 college admissions officers and gather information about a wide variety of colleges and universities from around the country. Additionally, we host several college admission representatives from all over the country on the Orme campus throughout first semester.
All college applications and accompanying documents are mailed out by the first week of December. The Orme School Profile is sent to colleges with each student transcript. It describes our curriculum, grading system, grade distribution, test scores, and college matriculation. Colleges typically notify applicants of acceptance or denial by the middle of April. Students then have until May 1 to make their final decision and notify each college.
At The Orme School, 100 percent of our graduates are accepted into college.
For a closer look at some of our College Counseling efforts and events scroll over the dates on the following calendar.
For any questions email sgoodspeed@ormeschool.org.