Outdoors on the Orme Campus
Be prepared for anything when you arrive at Orme—each day can be an adventure.
The historic Orme campus occupies half a square-mile (125 hectares/300 acres) near the geographic center of Arizona. We like to think of our location as the heart of Arizona.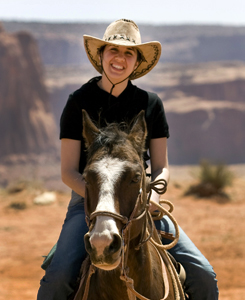 Outdoors on the Orme campus you'll enjoy hundreds of tall shade and evergreen trees, lush lawns, flower and vegetable gardens, and uncluttered vistas of mesas, mountains and grand skies. Hundreds of square miles of the Prescott National Forest border Orme's campus. Here, you may walk, bike, horseback ride and explore in any direction. At 4,000 ft. elevation (1,200 meters), Orme's climate is quite pleasant and cooler than Phoenix and the lowland deserts of southern Arizona.
Orme is located in some of the most strikingly beautiful terrain in the Southwest, and you are at the center of it all. Weekends and field trips provide time for you to visit nearby archeology sites and Native American ruins, the Grand Canyon, Sedona, Flagstaff, Phoenix, the Colorado River, and the Mogollan Rim.
Challenge yourself, even if you are not an overt outdoors enthusiast. There is skiing or snowboarding at nearby Arizona Snowbowl ski area, rock climbing in Prescott, or fly fishing, backpacking, camping and rafting while on our legendary Caravan. At Orme, you will learn self-reliance, outdoor skills, cooperation, respect and tolerance through personal discovery, and coaching by faculty, staff and other outdoor experts.