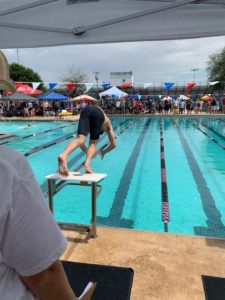 The Orme Swim Team had its first meet last week at Canyon State Academy in Queen Creek. Fourteen schools and over 150 swimmers participated in 34 events. Orme's team is coached by faculty member Landy Douglass, and assisted by Team Manager and Orme student Biruk.
The swimming Warriors did quite well in their first meet. Yulia won the girls' 50-yard Butterfly match, and finished 2nd in the girls' 50-yard Freestyle. Kaden gave Orme a 3rd Place in both the boys' 50-yard Freestyle and 50-yard Butterfly. And he nearly picked up a third award in the boys' 100-yard Backstroke.
Caroline won her heat in the girls' 50-yard Freestyle, and had a strong finish in the girls' 100-yard Breaststroke. Kevin also finished quite strong in all of his events.
The team put in an amazing performance that day. It was not easy, but our Warriors (as always) gave it their all. Go Warriors!