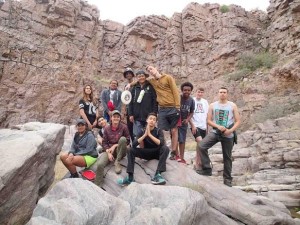 Orme's Director of Outdoor Education, Adrienne Baker, accompanied 11 students on a weekend camping and hiking trip to a canyon area off the beaten path in Chino Valley, which is known as The Promised Land.
A father of one of those students helped out by setting up their climbing ropes for them at a remote location. Two climbs were attempted during the trip, and all of the students made it to the top of at least one of those climbs.
The students also had a great time hiking in the canyon, and making s'mores around a campfire at night. It was a terrific bonding experience and adventure in our magnificent Southwest.