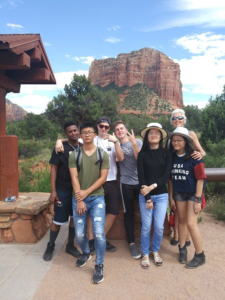 As a wrap up to Student Orientation week, faculty and students (in their assigned Red and White Teams), went on a number of adventure trips on Saturday and Sunday. Half of the students and faculty traveled off campus on Saturday, and the other half on Sunday.
The group remaining each day on campus participated in fun activities such as hiking to Big Mesa, kayaking in the Orme pond, mountain biking on the Hog Backs, board games in Commons, and a boat building competition at the swimming pool.
Student and faculty off campus outings included trips to Sedona, Jerome and art galleries, paddle boating on Watson Lake in Prescott, swimming and hiking at the Bull Pen in Camp Verde, and visiting the Highland Center for Natural History in Prescott.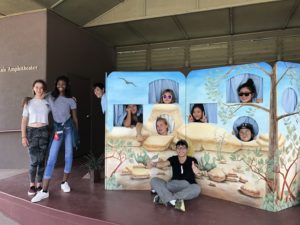 Both the on campus activities and the off campus trips provided an excellent opportunity for new and returning students and faculty to bond and get to know each other right at the start of the school year. And, it was also a very good way for new students to begin learning about our local area and all that it has to offer.
And the 2017-2018 academic year is off to a wonderful start!