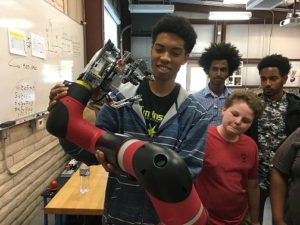 Earlier this month, eight students from Orme's Robotics Club took a trip to Embry-Riddle Aeronautical University in Prescott to meet Professor Iacopo Gentilini, PhD, who is in the Department of Aerospace and Mechanical Engineering. Dr. Gentilini gave the students a tour of the ERU Robotics Lab, and a 45-minute presentation on the current progress of robotics.
After the presentation, which began with handling of an 'arm' that had 5 points of rotation (like one would see on the assembly line of an auto manufacturing plant) and concluded with autonomous AIs, the students watched a robot solve a Rubik's Cube in approximately 60 seconds. They were also able to work with a robotic arm that can be programmed by physical example, rather than by coding in C+ or Python.
Needless to say, our Robotics Warriors had a blast! Two of the student who went on the trip have already submitted applications to Embry-Riddle Aeronautical University for the fall of 2017.
Robotics Club sponsor, Orme's Tech Director Eden Sears, and the students who attended extend a sincere thanks and appreciation to Dr. Gentilini for such an enjoyable and educational afternoon.