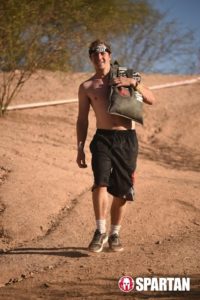 Earlier this month, Orme senior Ryan Schultz competed in the Spartan Race held at Fort McDowell Rodeo Grounds. Joining Ryan (and also competing) were Horsemanship Director Douglas Owens and two Orme staff spouses, Donnie Hudson and Todd Durow.
The four spent months running around the Orme campus and lifting weights in the gym to train for the event. The Spartan Race included obstacles such as a 20′ A-frame to climb over, an Atlas Carry, a barbed wire crawl, a Hercules Hoist and more. A total of 25 obstacles were spread over a 4+ mile run.
Ryan finished 44th out of 222 male students in the age 14-19 category!
The Orme adults, Donnie, Douglas and Todd also did quite well, with Todd finishing up 4th out of 50 individuals in his age category.
The group said they felt completely exhausted at the finish of the race, but also felt a strong sense of accomplishment for seeing the challenge through.
Time to start getting into condition for next year's Spartan Race!