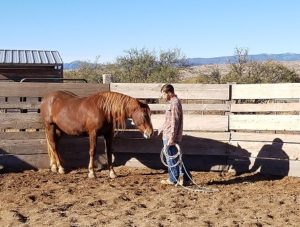 Students at Orme are participating in a unique BLM Wild Mustang Adoption Program, which will run through the second semester.
A mustang is a horse born in the wild in America. Every year, the BLM (Bureau of Land Management) rounds up mustangs to help manage and protect wild herds. These horses are then kept in a holding facility until they are adopted out.
Orme Horsemanship Director Douglas Owens picked out a mare from a group of about 40 horses. She originally came from Nevada, but the school adopted her from a holding facility in Florence, Arizona. As a wild horse, she had never been touched by humans when we adopted her.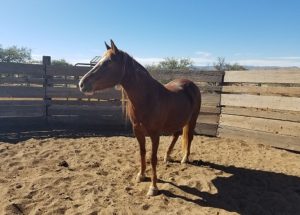 Orme's horse training class began working with her right away. The first step in training is to get the mustang to trust humans and become accustomed to their touch. The next step will be to halter her and teach her how to be led.
The mustang's training will progress throughout the second semester, and we hope that students will be able to ride her before the end of the school year. Orme is not only excited to teach our students about the training process of getting a horse to trust a person, but also to give this wild mustang a great new home.