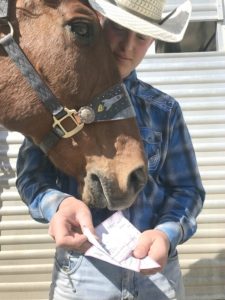 Orme's team attended their first large barrel racing competition of the year and had much success. The NBHA High Country event in the Buckle Series was held at Jackpot Ranch in Camp Verde, Arizona.
Eco won the 4D Youth Class. Riley came in 4th in the 4D Open, and Peyton took 5th place in the 3D Open competition. All three are working this season to qualify for the National Barrel Horse Association's Youth World Championships in Georgia next summer.
In addition, Rani and Peyton won the Relay Race with Eco and Riley very close behind. Riley and Peyton also won the Team Barrel Race.
Again, congratulations to our Warrior Horsemanship Team!