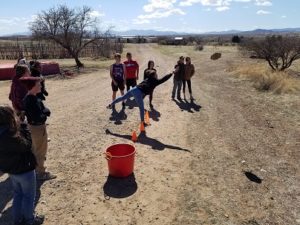 A week before Spring Break, a long time Orme tradition was relaunched by Director of Horsemanship Douglas Owens. Assistant Director of Horsemanship Lauren Alexander shares the event highlights below.
Western Heritage Day actually started after classes on Friday evening with dinner out by the Rodeo Arena. During dinner, students were able to watch a traditional Vaqueros riding presentation by horseman Joel Eliot. After the presentation, students huddled by the campfire as Joel sang some traditional cowboy songs and shared cowboy poetry.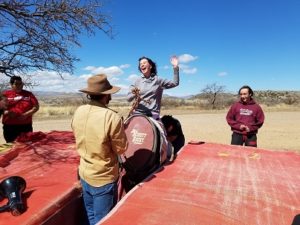 On Saturday, the competitions began. In the morning, Orme Horsemanship students hosted a Team Sorting Competition and invited some local riders to also compete in a Round Robin format. There was a wonderful show of support, which aided the fundraising efforts of Orme Horsemanship students who are trying to raise money to buy team jackets.
In the afternoon, the Western Heritage Olympics was held. Students competed on foot against each other in a variety of different ranch-themed events. There was a hay bale toss, a roping competition, mechanical bronc busting, a 'broken down' ranch truck push, cow pie discus and an all time favorite of the students – wood splitting. It was a very close match between the top three competing teams.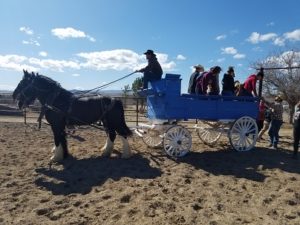 Congratulations to our winning team (IDK) members: Anthony, Hailey and Marco. There was also a great showing by the other two teams who tied for 2nd Place: (Team Trouble Makers) Kaden, Ryan and Tala; and (Team Crooked Arrows) Blaize, Sam and Eileen.
After the Olympics, there was a horse-drawn freight wagon demonstration. The day ended with a victory lap for the top three teams in that horse drawn wagon, which was brought up to The Orme School from Troy Haviland's facility in Fort McDowell, Arizona.