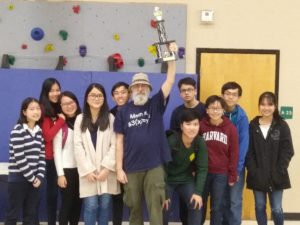 Orme's amazing Math Team traveled to Gilbert, Arizona with coach and faculty member Steve Wolfe to compete against eight other schools. Orme competed in the Large School Division as there were no other schools at the competition with an enrollment of under 1,000 students.
The Orme Mathletes placed 3rd! Among our top scorers were Ngoc, who finished 2nd among the 10th graders, and Daniel and Naomi, who finished 2nd and 3rd among the juniors. Newest member of the Team, Steve, finished 7th in the freshman category.
The Orme School now has 7 Mathletes (Daniel, Tony, Naomi, Ngoc, Halley, Viet and Steve) who have qualified for the State Math Tournament in April!
Wonderful job Team!