Camping trip overview by faculty member Steven Pankratz.
Students and faculty going on the High Sierras Caravan did a practice overnight trip to Big Mesa as part of their pre-Caravan preparation. They tested out their new gear, broke in their new boots, and learned a little about the philosophy of Leave No Trace camping.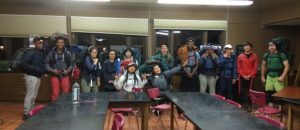 Students learned how to set up a campsite, safely use a camp stove (making some delicious oatmeal), slept out under the stars, and had an opportunity to experience the great outdoors before taking the full plunge into spring Caravan.
Despite a slightly chilly and windy night, and no unwelcome appearances by javelinas, everyone, including first time backpackers, made it back to Founders Dining Hall the following morning just in time for a hot brunch including, you guessed it, oatmeal.
High Sierras Caravan ahoy!