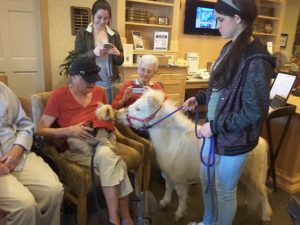 Recently, Orme School junior Eileen Wheelen had a unique opportunity to provide some unusual community service. Along with Orme staff member Dave Bradford, she took a miniature horse named Pearl to Prescott, Arizona to visit with individuals living at the Highgate Senior Home.
The seniors were delighted to meet, pet and talk to Pearl, who is a Therapy Horse. Dave Bradford has two miniature Therapy Horses that he has been raising and training at Orme; Pearl (age 11 months) and her counterpart Baylee (age 9 months). The horses are trained and have to pass a test in order to become therapy animals (just like therapy dogs).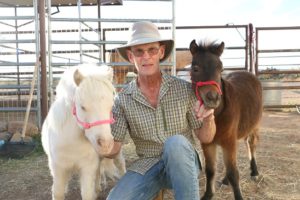 In a recent article in The Prescott Dog about Dave's miniature horses, writer Allie Werhan stated that, "The horses can go up steps, ignore noises and odd sounds, take treats out of someone's hand, and even shake hands. They are versatile about where they can go to meet patients. Both horses love attention and can bring happiness to the people they meet."
Orme students, faculty and staff know the importance of giving back, not only to the campus community, but to our local communities as well. This is just another wonderful way they are providing that service to others.