Project write up by faculty member and Engineering Team sponsor Steven Pankratz.
Orme's Engineering Team has made great progress on their wind turbine project, and students have learned quite a bit about the handling of tools and materials. Our plan to make a 2-meters tall vertical axis wind turbine has proceeded to about the middle of the construction phase, in that we have finished making the fiberglass molds, and will soon begin laying the fiberglass over their forms.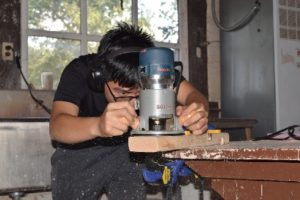 The team made a trip to Embry-Riddle Aeronautical University in neighboring Prescott, and learned something about the design and testing of airfoils and entire wind-energy systems. Our hosts also gave students a demonstration and lesson in the CATIA computer-aided design program, which will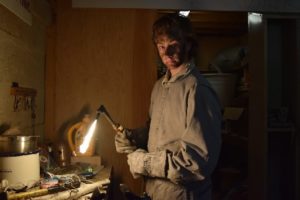 hopefully find use in producing mock-ups of our future models and components.
During the Engineering activity's off-season in the winter, I will be working with several students individually to advance the project through the most artistic phase – the creation of the fiberglass blades.
We hope that by the end of next week the mold will be properly conditioned and ready for work. The next steps will be to create a rotor to which we will affix the trio of blades, and then installing the completed turbine on Orme's campus.
Visitors and well-wishers are welcome to come by any given afternoon to see our team's progress.