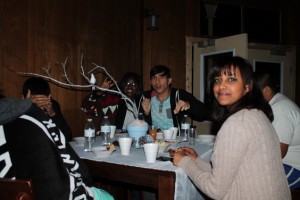 With so many special events and activities filling the holiday season at Orme, students held an early Holiday Party in Commons last weekend. The party included food, music and games, and a gift swap for those who wished to participate.
The festivities will continue this weekend with the Spanish Club's Holiday Party, and a trip in to see the Valley of Lights display in Prescott Valley. And, of course, our annual and traditional Candlelight Service and Dress Dinner next Thursday before everyone heads off on Winter Break.
Although it may not be a snowy "Winter Wonderland" here on campus because of our lovely and mild Arizona weather, students still had a chance to do some "Rockin Around the Christmas Tree!"
Happy Holidays!