MAY 1, 2015 ARTICLE UPDATE – Students raised $1,509.42 in total from their Penny Wars and Walkathon for Heifer International. That money will go to relief and recovery efforts to assist earthquake victims in Nepal.
Orme's International Club has launched a fundraising effort for Heifer International, which helps struggling families, especially farm families, in developing countries. Any amount can be donated to Heifer International. Even a small amount, such as $120, can buy a goat for a family. The students hope to raise upwards of $300. That amount can furnish a clean source of drinking water to a family. With $500, a heifer that is pregnant can be supplied to a family and, when the calf is born, the family will pass it on to another family in the village.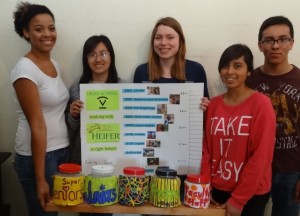 Students chose to do this community service project in response to the Hunger Banquet held at The Orme School on March 4. They wanted to DO something about world hunger. As a result, the Club has initiated a two-pronged effort to raise money – a Walkathon and Penny Wars.
Penny Wars – Each Class, as well as the faculty and staff, has a labeled container located in the School's Library to collect money. Pennies are 'positive' points, and all other coins and bills put into the containers are considered 'negative' points. The Class that ends up with the most positive points will win when the competition ends on April 30. All money collected will be donated to Heifer International.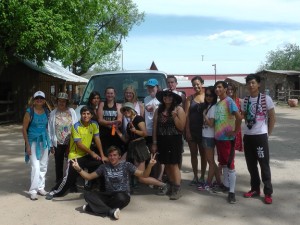 Walkathon –This 6-mile event is scheduled to take place on Sunday, April 12 from 2:30 – 5:00 p.m. Students participating will be asking others to pledge a dollar amount in support of their walk.
We are very proud of our students. They are caring and concerned individuals who try to find ways of reaching out and helping others when there is a need. They know the importance of community and service to others. They are truly Orme Warriors!