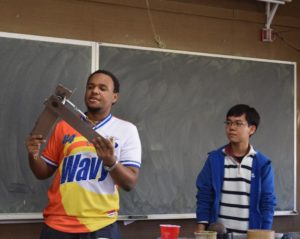 During semester 1 of the 2017-2018 academic year, students in Mr. Steven Pankratz' physics class demonstrated the working principles and actual operation of devices that they designed and built with a $50 budget. Students brainstormed ideas, developed individual proposals, and then designed a detailed plan that included project execution, progress statements, and final reports and presentations. The students walked through a microcosm of an entire professional design process.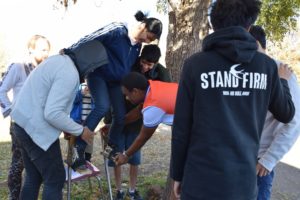 With generous welding and grinding assistance from our Orme Facilities Team, physics class students (in groups of 2 or 3) built a clay pigeon thrower, a pair of jumping stilts, a can crusher and a grabbing hand device.
Second semester physics will have more projects-based learning, as the class looks forward to designing and building a Tesla turbine, a wireless telegraph, an electric water gun, and an automated cold frame for the school's Burpee Garden. Mr. Pankratz stated that he has one word to share about these well planned and executed student projects…Excelsior!