If you read our news article of January 9, "Orme students 'checkmate' at Tucson Tournament," you know that three of our students competed and did quite well in the recent Arizona Grand Chess Tournament. Junior Tien Nguyen took 2nd Place that weekend and, in doing so, was allowed to come back and play in the next tourney round for free.
On the weekend of January 21-22, Tien attended the Tucson Open Chess Championship, which was held at the Hilton Tucson East. It was a two-day competition, with 180 players competing in seven sections.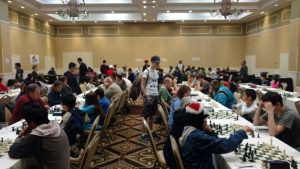 Tien went 3-2, ultimately placing 9th. Her only two losses were to the eventual 3rd and 5th Place players, one of whom was an international Grand Master (one of the top 200 chess players in the world!).
Congratulations to our very own international master chess player – Tien Nguyen!