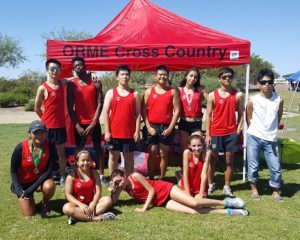 Our fleet of foot Cross Country Team, under the coaching direction of Josh Bloom and Steve Boardman, attended their first competition last week. The group headed to Tucson, Arizona to participate in the Carden Classic Meet. Orme Team members finished the course without slowing their pace.
The Varsity girls performed wonderfully. Kanokon 'Cartoon' Yaemklang finished 15th out of 45 runners. Senior Twyla Zuniga secured 5th Place, and junior Leah Merchant took 3rd Place.
Middle schoolers on the team ran against a field of 125 others. Eve Boardman came in 5th Place, and Quinn Boardman celebrated a 1st Place win!

Congratulations Orme Warriors!