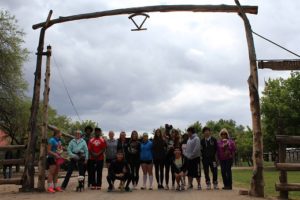 Orme's International Club students raised a little over $700 in pledges for their Walkathon last Sunday to benefit Heifer International.
The Club is well on the way to meeting its original fundraising goal of $1,000 as they also have had a raffle that raised $130, bake sales totaling $60, and school supplies sales of over $100. The Penny Wars competition between Freshmen, Sophomores, Juniors and Seniors (and faculty/staff, too)  will end next Monday, and the Club is now hoping that they will surpass their last year's fundraising total of $1,600.
Sunday was a perfect day for the Walkathon. It was cool and cloudy with very little wind. Several campus adults also joined in for the walk up the Hog Backs on Orme Road.
And, as you can see below, not only did student participants complete the 6 miles in good form, they still had a lot of energy left when they passed the finish line!