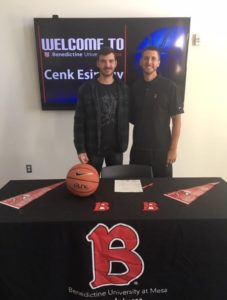 Orme School senior Cenk Esinduy officially signed with Benedictine University in Mesa, Arizona to play basketball. Cenk has trained and worked extremely hard to earn a college basketball scholarship, and yesterday that dedication and work came to fruition.
Athletic Director and basketball coach Austin Hudson stated, "The commitment you [Cenk] have made to improve on the court, the effort you have put forth in the classroom, and the positive behavior you have consistently demonstrated in our campus community all serve as examples to the student-athletes at Orme. If you work hard and make sacrifices, you will always have a chance to succeed!"
Cenk recently received CAA's Most Valuable Player All Region Award.
Congratulations, Cenk. We are all proud of you!