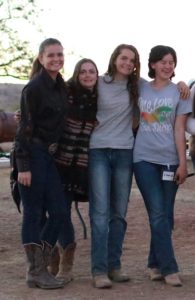 This fall, Orme hosted an Obstacle Course Competition for Equine Trail Sports. We had over 30 competitors and their horses take part in different trail obstacles. Some of the obstacles included a raised wooden bridge, "jousting" pumpkins, throwing a spear, walking through a Native American campsite, side passing over logs, and several other fun challenges.
Many Orme students and faculty competed, several placing with a ribbon in either the Novice or Intermediate categories. In the Novice In-Hand Category, Sheila June placed 4th, Colton Calmes placed 5th and Ray Jin placed 6th.
In the Intermediate In-Hand Category, Lauren Alexander placed 5th. In the Novice Mounted Category, Mady Whitney placed 5th, and Candy Gunti placed 3rd. And in the Intermediate Mounted Category, Lauren Alexander placed 5th.
Orme Horsemanship students worked very hard to put this event on, and our International Club helped by selling snacks and refreshments. It was a very fun and exciting day of competition here at Orme.