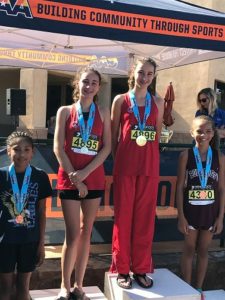 Our Warrior Cross Country Team did incredibly well this fall. Last weekend they attended the State Finals, along with their Orme coaches Josh Bloom and Steve Boardman .
Middle School student Quinn Boardman brought home a 1st Place gold medal by setting a new course record time of 9:01. Her twin sister Eve was 11 seconds behind her, and took 2nd Place.
Our young men, who ran in the high school division, did not 'place,' but all had personal best times that day: senior Victor Liu (19:42); senior Kenny Jang (20:54); and junior Kevin Liu (21:43). Junior Leah Merchant placed 8th in the high school division even though she ran after a knee injury.
Warriors, we are proud of your dedication, spirit and sportsmanship, and for representing The Orme School so very well. CONGRATULATIONS!
November 14, 2016 Update: Congratulations to Mr. Bloom and Mr. Boardman who won CAA's Coach of the Year Award in the Junior High School Girls Cross Country Team category.