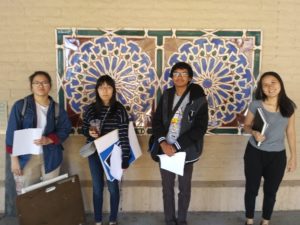 Just before Winter Break, new art faculty member Julie Million along with four Orme students, who have a serious interest in art, attended Portfolio Day at Mesa Community College. Mimi, Lynn, Joseph and Mai were able to get feedback and valuable suggestions on their personal artwork from professionals who were visiting from some of the top art schools.
There were 26 art professionals on hand that day, including representatives from California College of the Arts, Columbus College of Art & Design, Cornish College of the Arts, Fashion Institute of Design & Merchandising, Otis College of Art & Design and Paris College of Art.
Artwork done by Mesa Community College students was also on display during the event.