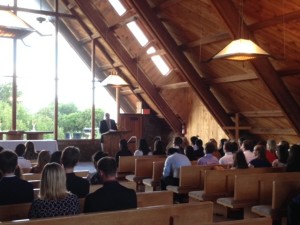 Held in the Morton Vrang Orme Memorial Chapel, students, faculty and staff attended Opening Convocation on Wednesday evening, August 26th to officially kick off the 2015-2016 academic year, and The Orme School's 87th year.
Head of School Bruce Sanborn welcomed new and returning students to the Orme Community. During his welcoming remarks, Mr. Sanborn shared:
"One of the things that make Orme 'Orme' is the diversity of our close-knit community and the many lessons we can learn from each other. In this environment, students are free to explore those differences in the hopes of finding common bonds and learning to expand your understanding of the world beyond our campus. To learn to see the world from alternative perspectives and through the eyes of another is a special opportunity here at Orme, and is a unique gift if fostered and developed. Another thing that is at the core of Orme is how it challenges individuals to assume various roles and responsibilities that build community. There is no reason not to be very optimistic about this dynamic, diverse, interesting, kind, funny, and helpful group of students, and the potential for the growth you each possess. There is good reason to be equally excited about the team of adults assembled here and their abilities as faculty, staff and administrators, and their years of experience and enthusiasm in serving as your teachers, coaches, Advisors, club sponsors, directors and guides.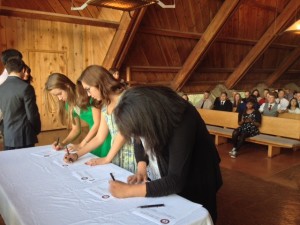 Please take advantage of the opportunities that are presented to you this year. Take time to appreciate and get to know your classmates and teachers, and to learn from them. You will be a better person if you do, and Orme an even better place. Let's strive to make this an amazing year."
In closing Convocation, new and returning students all came forward and signed the Honor Code and The Orme School Code. These pledges serve as the glue that has bonded Orme students for generations.
Following Convocation, students, faculty and staff attended their first family-style, sit down Dress Dinner of the year in Founders Hall.