Farm-to-Table
Learning from the land is a founding tradition at The Orme School. So, what do carrots have to do with this type of learning? To students, faculty and staff at Orme a bag of carrots holds so much more potential than the price tag attached to it. It was carrots that helped the school survive during the Great Depression, and it is carrots today—organic and school-grown— that are enabling our school to become a leader in sustainable agriculture and education today. Building upon Orme's rich agricultural history, the Farm-to-Table program was launched officially in the 2013-2014 school year.
So what is Farm-to-Table?
To describe Farm-to-Table (also called "Food-to-Founders") as a 'program' does an injustice. This is a way of life for our entire school community. It is the farm fresh eggs for breakfast, the composting pile, the cheese burgers made from local, grass-fed beef, and the freshly harvested salad greens, radishes and carrots from the school's organic garden on the salad bar.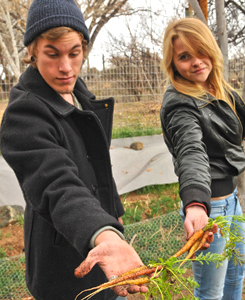 "Farm-to-Table" is students working side-by-side in the greenhouse learning natural pest controls, helping on the Orme Ranch and learning holistic ranching and grazing practices, building wooden-sided garden beds, or getting their hands dirty in the Burpee Garden with 15 raised beds, or in the Burpee Organic Orchard of 200 fruit and nut trees.
This campus lends itself to being such an incredible learning laboratory for our students. It is our duty as stewards of the land, to pass along our knowledge to the students so they can share what they are learning here at Orme with their peers and society when they leave.
Orme's Goal
With a generous donation from The Burpee Foundation and gratitude to Mr. George Ball, Craig Mynard and other generous donors, Orme's vision for its Farm-to-Table initiative is profound and important. Orme's goal is for 50 percent or more of the school's produce, nuts and meats to be supplied through this program and local farms, dairies and ranches in the next five years. Most importantly, the goal is for Orme students to be connected with the land, and their food supply.