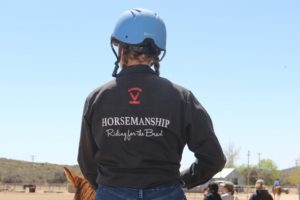 "Riding for the Brand!" This past Saturday, several of our Orme Horsemanship students competed in a local ranch riding competition. Horse Breakers Unlimited, which is located on the other side of Orme Road in Dewey, Arizona, hosted their annual Ranch Riding Buckle Series. Ranch Riding is a Western style class that is scored based upon how well the rider and horse complete a walk, a trot, and a canter pattern in an arena, which simulates a working ranch horse and rider partnership.
Orme had five riders compete that day: Ashlyn D., Mady W., Char B., Sophie M. and Ray J. Everyone from The Orme School came home with a ribbon! Char, Sophie and Ray competed in the Walk Trot Class. Char took 4th Place, Ray received 3rd Place, and Sophie won 1st Place.
Ashlyn competed in the Youth Class as well as the Green Rider Class, and she won 2nd Place in that category. Mady competed in the Green Rider Class and took 5th Place.
We are very proud of our riders and how well they represented The Orme School, and we will return next month for another competition.