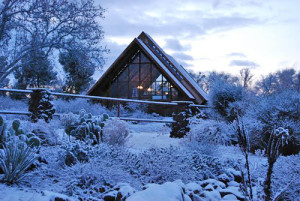 As Orme students reunite with their families back home (or choose to stay with families of school friends), the entire Orme community wishes you all a most joyful and peaceful holiday season. It is a time to reconnect, to renew, and to count our many blessings.
As we look to a New Year, and what Orme students have to look forward to in 2015, we want to take time now to thank our Orme families, including our many supportive Orme alumni. I was so positively taken aback on the first weekend in November. We reached out to our alumni network asking for volunteers to join in with students, faculty and staff on planting the first of 200 fruit and nut trees in our new Burpee Orchard. Our alumni turned out not just in impressive numbers, but with most impressive enthusiasm. They were each, quite literally, ready to dig in to support Orme.
This newest addition to our Sustainability Program is made possible by a generous grant from The Burpee Foundation and Orme alumnus Mr. George C. Ball, Class of 1969. Because of this forward-looking and generous gift, our Orme community in the New Year will witness an entirely new type of expansion and growth on campus:   fruit and nut trees taking root, growing taller and stronger each season. Certainly a metaphor for each season of an Orme student's life here. Most certainly The Burpee Orchard is a living classroom that honors the tradition of the Naturalists our students study, from Emerson and Thoreau to Muir.
And, our students get to be involved in the stewardship of The Burpee Orchard under the guidance of Emerson 'Casey' Jones, our biology teacher and new Director of Sustainability. This takes good wishes for a 'fruitful' New Year to an innovative and wonderful level for our entire community. In future years, we can all harvest apples, pears, apricots, plums and pecans together, and make quite the holiday dessert feast before students leave on their holiday break. Here's to locally-grown Orme feasting.
Happy Holidays to you and your family!
Bruce Sanborn, Head of School