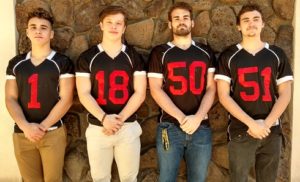 The Orme Warriors football team ended their season 8-1. Four seniors on the team earned an opportunity to represent our School in the Canyon Athletic Association's (CAA) 8th annual Senior Bowl game in Queen Creek. Several of those players were also selected to the First Team All State!
Zion Adler, #51, is from Sedona, and this is his first year playing football. Zion played offense center and guard. On defense he played cornerback.
Brent Adcock, #50, is also from Sedona, and was captain of the offensive and defensive line. He played offense center and guard, and defense end and linebacker. Brent led the league with 13 quarterback sacks and 65 tackles over the season.
Jonathan Myren, #18, is from Sweden. On offense he played running back, and had 1,034 yards rushing, 13 touchdowns, and three 2-point conversions; ranking 2nd in rushing. On defense he played middle linebacker with 28 tackles, 2 quarterback sacks and 2 interceptions.
Jonathan Lehn, #1, enrolled at Orme as a 6th grader, and is the son of Athletic Director Tony Lehn. Jonathan was one of the team captains this year. He played offense running back and receiver. He had 1,273 yards rushing, 899 yards receiving, and was ranked #1 in rushing and receiving. On defense he played corner back and linebacker.
Congratulations Zion, Brent, Jonathan and Jonathan, and to our Warriors Football Team and their coaches for a great 2016 season!