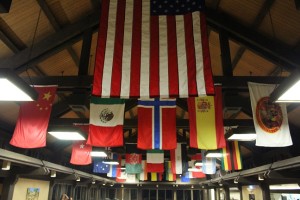 Last evening preceding dress dinner, faculty, staff and students took a moment to look at the flags on display in Founders Hall, and to recognize and celebrate the diversity of our campus community. Twenty-four different flags, each representing one or more members of our School this academic year who are from:
Afghanistan
Australia
Canada
China
Colombia
Egypt
El Salvador
Ethiopia
India
Italy
Korea
Mali
Mexico
Navajo Nation
Norway
Puerto Rico
Russia
Spain
Three Affiliated Tribes of Dakota
Turkey
Ukraine
United States
Yavapai Prescott Tribe
Zimbabwe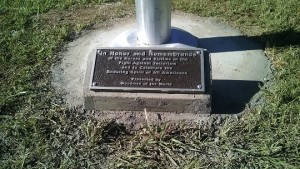 Earlier this fall, another flag ceremony took place down at the Miller-Barrick Field when the Woodmen of Arizona, Inc. presented The Orme School with a new flagpole and flag. The plaque at the base of the flagpole reads:
In Honor and Remembrance of the Heroes and Victims in the Fight Against Terrorism, and to Celebrate the Enduring Spirit of all Americans. Presented by Woodmen of the World.