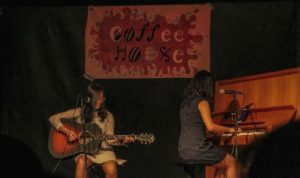 Coffee House is held monthly at Orme, but for Family Days weekend it was an extra special extravaganza. Held in Horsecollar Theater, visiting parents and families were able to attend and enjoy the show.
Students (and a few faculty members) displayed their diverse talents. Performances included several guitar pieces, a current folk-pop-rock song sung as a rap group, a student sharing a song from her home country of Vietnam, and cultural dances by the International and Spanish Clubs.
It was a wonderful evening of entertainment and fun, and students especially enjoyed sharing it with their families.