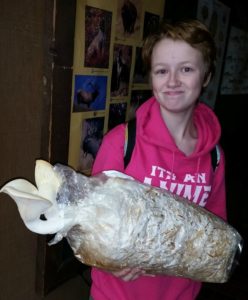 Students in Mr. Casey Jones' Environmental Science class took on the task and challenge of identifying opportunities to help make The Orme School a more sustainable community. The students were asked to create a project that illustrated how to create something of value from waste, or ways in which to conserve water, electricity and other important resources.
Ali Walsh's project involved using edible oyster mushrooms to digest a pile of wood chips from one of the campus trees that had been cut down and chipped. Part of the project was to grow mycelium to seed the wood chips.
Other projects included the creation of a solar oven by Remington Phinny and Preston Valenciana. The oven will be used to cook one-pot meals.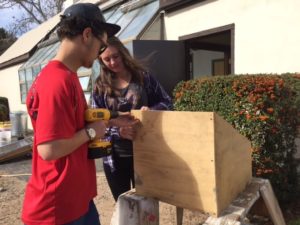 Rosie Mace, Lee Ly and Alex Aleman created a biogas digester that will produce methane gas from animal waste, and which can replace natural gas in stoves.
Victor Liu and Brian Lin designed and built a flat plate solar collector, which will heat water to be used to warm the School's greenhouse at night.
The students' projects were not only a good learning experience for the Environmental Science class, they are also teaching the rest of The Orme School community about sustainability, and how everyone can be a part of that effort and process..