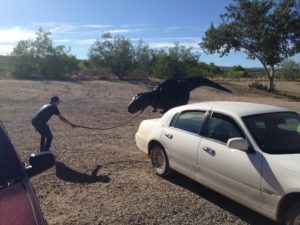 Camp Cruz participants enjoyed the Orme campus last week, while they were here for their 2016 juvenile arthritis camp.
During their stay, campers were treated to a special presentation and a life sized mechanical dinosaur. Campers learned about dinosaurs, and were able to interact with a mechanical Velociraptor and have their picture taken with other dinosaurs also on hand that day.
One hundred percent of Camp Cruz campers, and 80% of their counselors deal with chronic arthritis challenges every single day.
However, that did not seem to slow down anyone in the camp; they rode horses, canoed, fished, swam in the pool, tried their hand at archery, enjoyed a bubble-machine water slide, and much, much more.