In a last opportunity to gather together before Winter Break, students, faculty, staff and families attended Orme's traditional and annual Candlelight Service in the Morton Vrang Orme Memorial Chapel. The program included special reading selections by students on the topic of 'choices' from the Bible, the Torah and the Quran, as well as a quote from Buddha and from the Iroquois Confederacy Maxim.
Students also performed several musical pieces on the piano, saxophone and drums, while the congregation lit candles on a large wooden star. The program concluded with a message from Head of School Bruce Sanborn, again centered on 'choices.'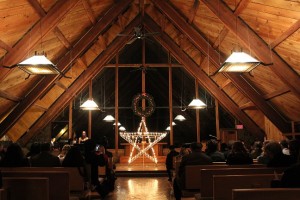 After the Candlelight program, everyone headed to Founders Dining Hall for a festive and delicious, family-style dinner together.
Wishing all of our students and their families a relaxing and well-deserved Winter Break!