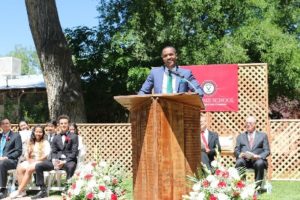 Orme's guest Commencement Speaker on Saturday, May 20th was Mr. Jabari K. Smith, who is an author, mentor, entrepreneur and athlete.  He is also one of our very own graduates, having received his Orme diploma in 2001. Mr. Smith's professional experience has comprised 6 years of working with student athletes.  He is the author of Life's Playbook: 11 Plays to Success.  Life's Playbook was written to give student athletes a blueprint of how to become successful in life by using Sports principles.
Mr. Smith is also a corporate sales executive for the Los Angeles Sparks (the team being a 3-time Women's National Basketball Association Champion), and the co-founder of More Than An Athlete, a non-profit mentoring organization for student athletes.  
He holds a Masters degree in Organizational Management and Leadership Development from Spring Field College, and a Bachelor of Arts in Human Development and Family Studies from Texas Tech University, where he also played Defensive Back on the University's football team. Jabari's purpose is to equip student athletes with the ability to navigate their goals into reality by teaching life's skills using sports principles.
And…you can find Jabari Smith's retired #30 Orme football jersey proudly displayed in our school gymnasium. In 2001, he set a State Record for making 46 touch downs in one season.  
Click here to read Jabari Smith's 2017 Commencement Address.