The Orme School was delighted to host Camp Agape last week for 4 days. It was our first summer camp session of the 2015 season. The theme for their camp was 'The Flintstones,' so the Orme campus and Founders Dining Hall were turned into the stone aged Bedrock City.
Seventeen families escaped the heat of Phoenix, and enjoyed horseback riding, archery, hiking, arts & crafts, swimming and much more. They also had an opportunity to hang out with other families who have either gone through, or are currently receiving, cancer treatment.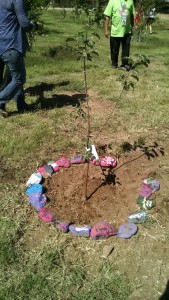 As part of the experience, participants planted an apple tree in our Burpee Orchard. The rocks encircling the tree represent either a cancer survivor, or a child currently fighting cancer.
It was absolutely amazing and inspiring to see and experience the joy, the care and the happiness that Camp Agape provided for their visiting camp families.